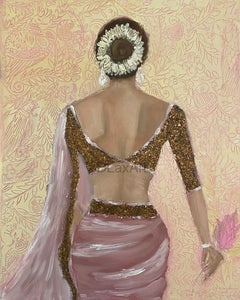 "Tamara," the lotus girl by DLaxArt
Regular price
Sale price
$130.00
---

Artwork by Dhaya Lakshmi
This is a 20 x 16 premium card stock print of the original artwork.
This item ships FREE and promo codes are not valid on this item.
Notes from the artist:
Collection
Girl with lotus is one of my signature painting collections. The painting depicts the purest form of femininity and a calm nature.

What inspired me to paint TAMARA, the lotus girl?
As a person of South Asian origin, I love sarees and wearing them on special occasions, Every time I wear a saree, it makes me feel unique and very special. It also makes me happy and beautiful . It is flattering to see women dressed up in Saree and making a strong statement. So I wanted to create an art depicting a 'Lady in Saree' to represent the traditional value with a modern look. Oil painting helped me to achieve that translucency of a chiffon saree.

Why is she holding a lotus?
It is a belief that Goddess Laxmi is in the form of lotus. Lotus is so pure and has a tranquil nature which also resonates over every woman around the world. So I incorporated a pink lotus on her hand which turned out to be so dreamy and classy.

Details of the painting
I have used oil as the medium for this painting along with other mixed media. I love how oil paint interacts with canvas as it creates beautiful textures resulting in a timeless look. In this painting, I have introduced applying gold mica flakes on her couture to give a sequin look on her blouse and saree border which also gives lots of texture to it. For the background, I have incorporated traditional Indian folk art designs like peacock and mango motifs to create that whole mood. Especially for the background I have used more than a full size oil paint to create such intricate details and textures.

TAMARA is a modern contemporary art with a touch of tradition. This painting consumed more than 40 hours of labor. I thoroughly loved working on each and every process in this painting, which took almost a month to completely dry.
---